Meet Dr. Angelika Golemo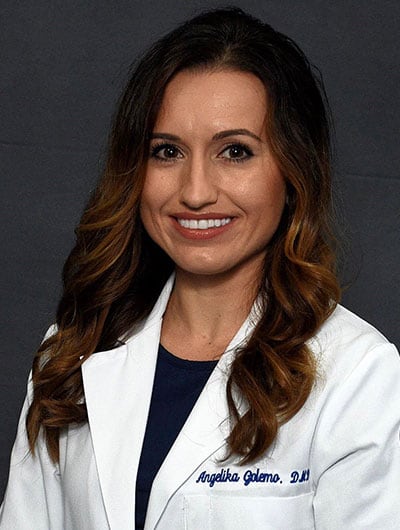 Dr. Golemo completed her Bachelor of Science degree in Biology with honors from Dominican University in River Forest. While obtaining her undergraduate degree, she worked as a dental assistant where she developed her true passion for dentistry and decided to pursue her education further in that field. She then earned her Doctor of Dental Medicine (DMD) degree from Midwestern University. Throughout her studies, she completed clinical rotations at Human Asian Services Family Center where she was able to expand her clinical expertise and provide care to immigrants and underserved communities.
Dr. Golemo believes that a beautiful and healthy smile is a huge confidence builder and can be life changing. This is why she is committed to providing highest quality care for every patient based on their individual needs while building strong lasting relationships with her patients. Dr. Golemo dedicates her time to continuing education to broaden her knowledge and services, and she is a member of the American Dental Association, Illinois State Dental Society, Chicago Dental society, and Academy of General Dentistry.
Outside the office, Dr. Golemo enjoys her time traveling, hiking, exercising, gardening or simply soaking up the sun on hot summer days. She's also a big dog lover and loves spending time with her furry friend, a German Shepherd. Being born and raised in Poland, she speaks Polish fluently and loves visiting her family back in the motherland.